Blu Mediterraneo Bergamotto Di Calabria Eau De Toilette Spray
Size: 150ml/5oz
This fragrance takes you through a voyage to Calabrian citrus fruits
Unfolds freshness & untamed nature
Starts with notes dominated by bergamot & citron
The heart is softened towards floral notes & red ginger
Base notes are cedar wood, benzoin

Outdoor Dates
Feeling listless? Why not head outside and bask in the sun? Whether you want to work up a sweat on a nature hike or go on a pictur ...
See more >>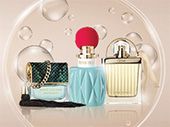 Top 10 Hottest Perfumes
New perfumes hit the shelves all the time, but not everyone can stand out from the crowd. We've picked the Top 10 best fragrances ...
See more >>