The New Foundations of Today
Show Menu
The New Foundations of Today
How to Get a Truly Natural Look
Gone are the days of the one-size-fits-all pancake foundation. Today, BB creams, CC creams, tinted moisturizers and cushion foundations are redefining the landscape of makeup. Join us on a quick tour of what these new formulations can do for you, why they've got such weird names, and why beauty lovers are going nuts over them!
For the longest time, tinted moisturizer has been relegated to third-class makeup status. Now it's experiencing a revival. For the lightest, can't-even-feel-it coverage, keep one of these on your vanity at all times. Perfect for those days when you just need to run a few errands, or when you want to look good without being 'overdone'.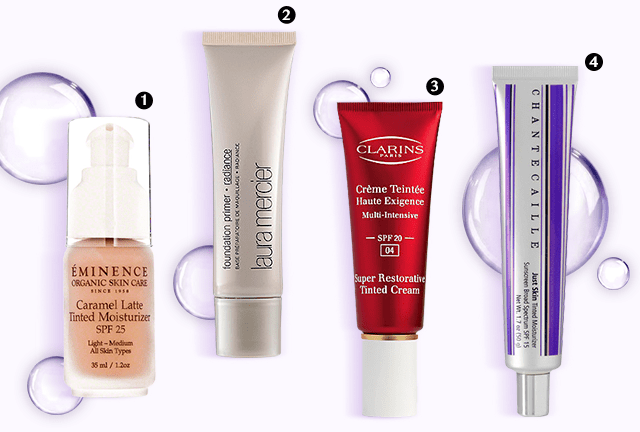 Eminence Caramel Latte Tinted Moisturizer SPF 25 - Light to Medium
The organic option. Wear alone for a sheer tint, or use as a smooth base for foundation on top.

 Laura Mercier Tinted Moisturizer SPF 20 in Nude
Continuous hydration. Revives skin and adds moisture without adding weight.

 Clarins Super Restorative Tinted Cream SPF20 in #01 Opal
Optically smooth. Feel instantly gorgeous with this glowing, natural finish.

 Chantecaille Just Skin Tinted Moisturizer SPF 15 in Vanilla ($98.00)
Ultra-light tint. Combats free radicals with a complex of powerful botanicals.